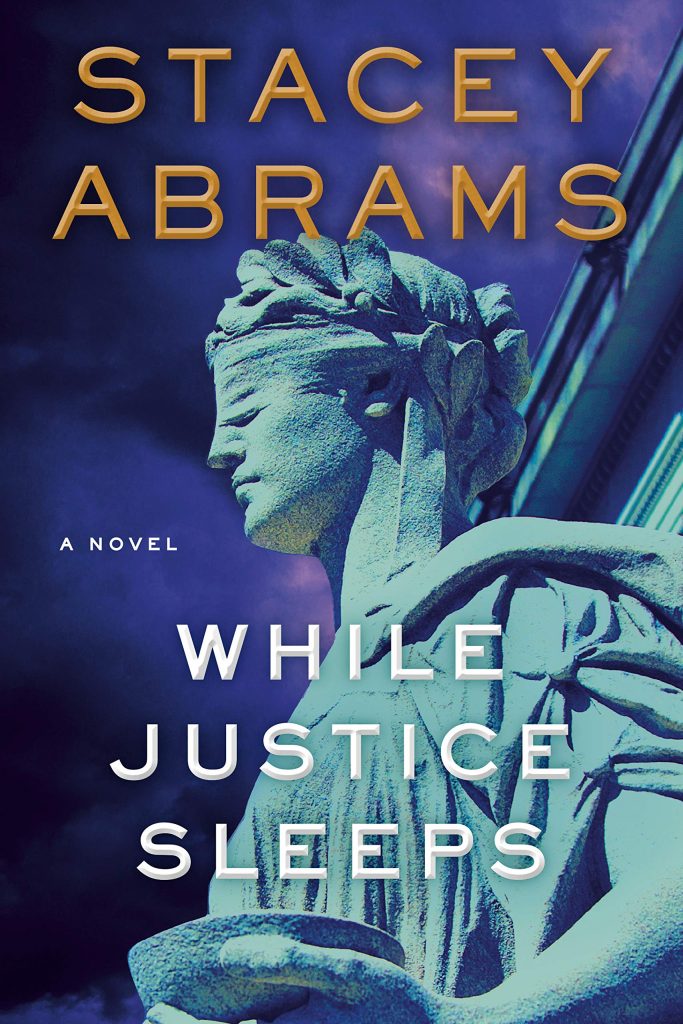 While Justice Sleeps by Stacey Abrams
"Stacey Abrams firmly establishes herself as a powerful player in the crime thriller space, with her heroine Avery providing a voice to women everywhere.  Twisty, clever, and full of surprises, Abrams proves she is not only a force for change in politics but a force to be reckoned with in fiction, too." — Karin Slaughter
---
Under the Light of the Italian Moon by Jennifer Anton
Inspired by a story of love and women's resistance during the rise of Fascism and World War II, the author has brought to life the role of the rural Italian midwife in the 1920s and 1930s as intense difficulties and pressures are experienced.
---
We Were Never Here by Andrea Bartz
A backpacking trip in the mountains of Chile has deadly consequences in this chilling thriller.
---
The Smash-Up by Ali Benjamin.
A novel about a marriage that spirals out of control when the issues of our day — cultural, political, and  social — become intensely personal.  Takes place in Washington D.C. in September, 2018.
---
Dead by Dawn by Paul Doiron
Maine game warden finds himself in a life-or-death chase after being ambushed on a dark winter road, his jeep having crashed into a frozen river trapping him beneath the ice.  A new thriller in a bestselling mystery series.
---
Vera by Carol Egarian
A grand adventure set in 1906 San Francisco — a city leveled by earthquake and fire — featuring an indomitable heroine coming of age in the aftermath of catastrophe.
---
Sooley by John Grisham
Seventeen-year-old Samuel Sooleymon gets the chance of a lifetime, a trip to the US with his South Sudanese teammates to play in a basketball tournament.  News of a civil war raging across South Sudan creates a crisis in his life.
---
The Midnight Library by Matt Haig
Between life and death there is a library.  The books in the Midnight Library enable Nora to live as if she had done things differently.
---
The Golden Girl by Elin Hildebrand
Nantucket novelist Vivian Howe has one final summer to protect her secrets while her loved ones on Earth learn to live without their golden girl. —New York
---
The Hundred Thousand Kingdoms by N.K. Jemisin
"A mesmerizing exotic world where fallen gods serve as slaves to the ruling class and murder and ambition go hand in hand." — Library Journal (starred review)
---
Writers and Lovers by Lily King
"Writers and Lovers  reminded me so much of my youth that I asked Lily if she had been reading my mail in the 1990s.  It's all about love and being broke and trying to make art." — Ann Patchett
Seal Harbor Book Club choice
---
Billy Summers by Stephen King
This riveting novel is part war story, part love letter to small-town America and the people who liive there.  It features Billy Summers, a killer for hire, who will only do the job if the target is a truly bad guy.
---
The Exiles by Christina Baker Kline
This novel captures the hardship, oppression and hope of a trio of women's lives in 19th century Australia.
---
Sea Smoke and Mirrors by Jennifer LeClair
High seas adventure turns to high stakes sleuthing when a beautiful but troubled homicide detective and a New England sea captain join forces in this award-winning mystery series set on the coast of Maine.  This is the first book of the Windjammer Mystery Series.
---
Rigged for Murder by Jennifer LeClair
Lobster men are dying on Starkhaven Island.  The author vividly captures Maine's island coastal regions, where she has sailed since 1995.  This is the seventh novel in the Windjammer Mystery Series.
---
A Dog's Life by Peter Mayle
Many of us recall the laugh-out-loud books Peter Mayle wrote about building a house in Provence.  You may remember meeting a dog of uncertain origins and dubious hunting skills with the name of "Boy."  This "do g memoir" proves the best vantage point for observing life may well be on all fours.  If you want a funny book this is it.
---
The Song of Achilles by Madeline Miller
"A wildly romantic retelling of the Trojan War as a story of longtime companions narrated by Patroclus.  Talk about updating the classics." — Time
---
Mexican Gothic by Silvia Moreno-Garcia
A reimagining of the classic horror novel, a story about an isolated mansion in 1950s Mexico and the brave socialite drawn to its treacherous secrets.
---
Hamnet, A Novel of the Plague by Maggie O'Farrell
A young Latin tutor — penniless and bullied by a violent father — falls in love with an extraordinary, eccentric young woman.  The setting is England, 1580.  The Black Death is creeping across the land.
---
Malibu Rising by Taylor Jenkins Reid
"It's 1083 in Malibu and the famous Riva siblings are hosting their end-of-summer party.  By morning, the house is in flames, a blaze fueled by smoldering secrets and long-simmering drama." — Washington Post
---
The Sparrow by Mary Russell
In this 20th anniversary edition the author tells the story of a charismatic Jesuit priest, Emilio Soudoz, who leads a scientific mission to make first contact with in intelligent extraterrestrial life.
---
The Invisible Life of Addie by V. E. Schwab
France, 1714.  In a moment of desperation, a young woman named Adeline meets a dangerous stranger who lures her into a Faustian bargain — being able to live forever, without being able to be remembered by anyone she sees.  We follow Addie through three centuries of love, loss, art and war.
---
Black Ice by Brad Thor
As Scot Horvath, America's top spy, leaves his favorite cafe in Oslo (on vacation) he sees the ghost of an evil man he killed years ago.  How is he still alive?  What is he doing in Norway?  To find the answers read this thriller.
---
The library wishes to thank the Cushman family for their donation of an excellent collection of fiction and drama books in Spanish.